It is important not to skip breakfast and always make sure that the first meal of the day is complete, contains all the important nutrients and gives us energy for the whole day. Plus, it has to be tasty and close to our hearts, and this Greek omelette recipe is just what you need to start the day off right.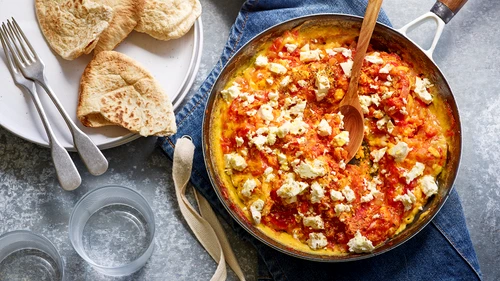 The omelet is a breakfast staple, and many turn to it for a quick, hot meal early in the day. Often thought of as a mundane dish, it can be a lot tastier than you thought, without much effort. Try this Greek omelette recipe with tomatoes, garlic and feta.
What ingredients are needed for a Greek omelet
For the perfect Greek omelette, you need eggs, well-ripened tomatoes, garlic, and feta cheese (or any fattier cheese).
Here are the quantities needed for two servings
4 large eggs lightly beaten
2 large ripe but still strong tomatoes
2 tablespoons extra virgin olive oil (or other favorite oil)
2 cloves garlic
1 tbsp mint or oregano (can be fresh or dried)
½ cup feta or any other fatty cheese
salt
pepper
How to make a Greek omelet
The first step is to peel the tomatoes, peel them and put them on a grater.
Then, in a frying pan, heat the oil and add the garlic. Cook the garlic for about a minute so that it does not burn. Put the tomatoes on the grater. Let the mixture cook well for about ten minutes, until all the water in the tomatoes has evaporated and only the pulp remains.
Put the beaten eggs and the spoonful of mint and oregano. Salt and pepper. Mix them well with a wooden spoon. Let the omelet cook for five to eight minutes, depending on your preference.
Put the omelet on a plate and sprinkle feta or any other cheese of your choice on top.
You can watch Click! on Google News, Facebook and Instagram!
.