Surely you had tables full of all kinds of traditional products: sarmel, steak, sausages and cake, all sprinkled with a little alcohol. Now all you need is a detox plan. Vegetables and fruits help the liver, bile and spleen to recover after the feast.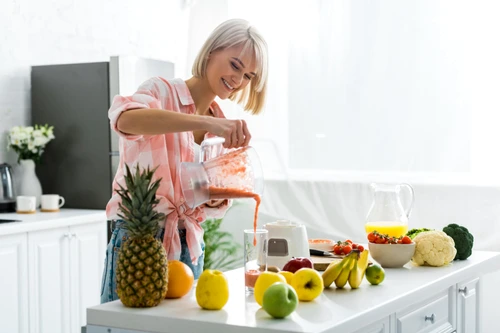 It is one of the largest and most important organs that protect us from the effects of toxins entering the body. This is also the reason why it is essential to keep the liver in a very good working order, and detox juices help in this regard.
It's time to ditch the saramel, sausage, and bun, because it's time to detox. Smoothies can do wonders for our health, especially now that we need vitamins and minerals and cleanse vital organs. Doctors recommend, in addition to the mandatory consumption of two liters of water per day, to include natural juices from fruits and vegetables in the diet. Carrots, apples, beets, lemons, and celery are among the most important foods that help detoxify the liver.
To be effective, the detox juice should be kept for 3 to 7 days, during which time you should eat as little as possible and drink as much juice as possible. Try to eat plenty of salads, fruits and soups, drink plenty of water, and exercise.
Great juices that rejuvenate your body
Lemon and beetroot juice: 6 celery stalks, half a lemon, 1 beetroot, 1 cup cilantro, 1 piece fresh grated ginger. Process all ingredients in a juicer. Juice is served immediately.
Carrot and beetroot juice: 2 carrots, 2 pieces of beetroot, 1 lemon, 1 onion of fir. Process all ingredients in a juicer. The juice is taken right away or can be stored in the refrigerator for 24 hours.
Orange and celery juice: 2 peeled oranges, 1 peeled lemon, half celery, half cup parsley. Process all ingredients in a blender. Consume immediately.
Swiss cabbage and cabbage juice: Half a cucumber, 2 cups cabbage, half a lemon without the skin, 1 lemon without the skin, 1 cup Swiss beet. Process all ingredients in a juicer. Consume immediately.
Liver cleansing aid
Tea also contributes to the proper functioning of the liver. Green tea is that infusion that is very high in antioxidants. It is also an excellent tonic and useful when you feel deprived of energy. With its strong aroma, ginger tea is also rich in antioxidants, has beneficial effects on the digestive system, can neutralize harmful bacteria and supports the immune system. It can be combined with lemon juice or dandelion tea, both of which enhance its therapeutic effects. Chamomile and peppermint tea are good for the annoying stomach and liver symptoms that you can sometimes experience. Calms burns and upset stomach and intestines, reduces the feeling of hunger and nausea.
.