Claudia Pătrăşcanu looks like a 41-year-old kid, and this is also due to her diet. The singer recently shared with her fans a simple, delicious and very nutritious breakfast idea.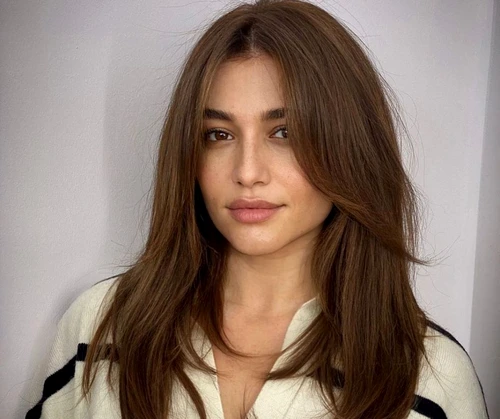 Claudia Pătraşcanu photo: Instagram
It is very important to eat breakfast: it gives us energy and prepares us for the day we are starting. However, we don't always have the time or the patience to prepare something complex for the first meal of the day, but there are also faster options. Claudia Pătrăşcanu has one that she uses every day and it's very delicious.
Claudia posted on her Instagram page a photo of her favorite breakfast: oatmeal with milk, fruit and chocolate. The ingredients are very simple and affordable. You need rolled oats, coconut milk, rolled oats, a banana, a handful of raspberries, a few pieces of chocolate, a few coconut flakes, a few nuts, and of cinnamon.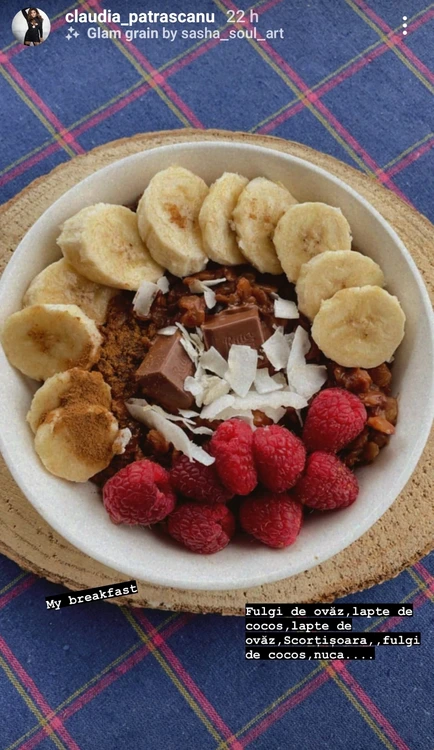 This is what Claudia Pătrăşcanu's breakfast looks like: photo: Instagram
A complete meal, nutritious and very easy to make, even if you do not have much time to prepare breakfast in the morning.
Claudia Pătrăşcanu has been on a diet since the beginning of her musical career
Claudia Pătrăşcanu lost a lot of weight, after her breakup with Gabi Bădălău, in 2019, using a personalized diet. She didn't reveal exactly what she was eating, but the effects were visible and Claudia has since maintained her dream weight.
Moreover, the soloist, who was part of the group Exotic, along with Julia Jianu and Andreea Bănică, said that she had to shoot to lose weight, when she was younger. At the age of 19, when she made her debut on the music scene, she weighed 71 kilograms and was considered full. Because of this, Claudia resorted to unhealthy diets and exercised too much, which adversely affected her health. She had even fainted in the street.
"It just came to our knowledge at that time. I was a kid, I was 19 and I was fuller, I weighed 71 kilograms. I don't even want to remember what I I did to lose weight. I went on all kinds of diets, some very heavy, passed out in the street. It was then a difficult time in my life, because I was quite full: 73-74 kilos, I was bloated and had to go on diets.It is important to exercise too.
I fainted in the street. I was also doing sports, but I had the ambition to lose weight faster, I was booming in music and I had to lose weight very quickly. I was on all kinds of diets. I can't give up sweets, so I had ambitions to lose weight"said Claudia Pătrăşcanu, some time ago.
You can watch Click! on Google News, Facebook and Instagram!
.